The hard-to-get Nvidia 30 series of desktop GPUs are some of the best-performing GPUs out there in the market. Nvidia has its dominance in the desktop GPU market, and that dominance continues with the new RTX 30 series GPUs. These GPUs offer really high performance. While comparing to the price, they also carry an excellent value for money factor. One such GPU in this series is the Nvidia GeForce RTX 3060. But most of us and the gamers don't like these GPUs because of their limited availability.
You may be very well aware that there has been a shortage of sufficient stocks of these GPUs ever since the launch. This is making these GPUs really very hard to get. But due to its value and performance output, many like you want to get an RTX 3060 anyhow. And for those enthusiasts, buying a prebuilt gaming PC with the RTX 3060 will be one of the easiest ways to get your hand on this GPU.
And if you are also planning to get a new prebuilt gaming PC with the RTX 3060 GPU, then you have landed in the right place. Here in this article, I am going to suggest the 10 best RTX 3060 prebuilt gaming PCs that you can buy without any second thought about their performance, looks, and longevity. I have suggested only the best PCs out of hundreds that are up to grab on Amazon. All the listed gaming PCs are from well-known brands along with a minimum of 1 year of warranty.
All the PCs are obviously, housing the Nvidia GeForce RTX 3060 GPU with no underclocked Max-Q variant in any PC. This GPU adds a total of 12GB of GDDR6 video memory to the specs sheet of the PC. This GPU comes with 3584 CUDA cores with a max boost clock speed of 1.78GHz. All in all, this GPU is one of the best and latest options to get superb 1080p gaming performance on your PC. But if you want even higher resolution in heavy games, I would highly recommend you opt for a gaming PC with RTX 3070 for 2k gaming or RTX 3080/RTX 3090 for no compromise in 4k gaming.
Recommended: Best Prebuilt Gaming PC under $2000
What is the difference between RTX 3060 vs. RTX 3060Ti?
The standard Nvidia RTX 3060 packs 12GB GDDR6 VRAM, 3584 CUDA cores with 1.32GHz base clock speed, and goes up to 1.78GHz. In comparison, RTX 3060Ti offers lesser 8GB GDDR6 VRAM, but more 4864 CUDA cores with a 1.41GHz base clock speed and capable of going as high as 1.67GHz. Other than that, the "Ti" variant is compatible with up to 200W power generation, while it is reduced to 170W for the standard RTX 3060 variant.
Overall, the difference isn't so huge, yet, RTX 3060Ti takes a slight lead in performance. In terms of power requirement, RTX 3060Ti requires a 600W power supplier, whereas, the standard RTX 3060 needs at least a 550W power supply. So, you should also keep in check PSU while selecting a PC with these GPU variants. Any PC with RTX 3060 onboard must support 550W PSU to get an appropriate power supply.
Also Read: Best RTX 3060 Laptops
Buying Guide: What to look for in a good RTX 3060 gaming PC?
The RTX 3060 is definitely one of the best options in desktop GPUs to get flawless 1080p gaming performance. But just like any other machine, the whole system works when all its components are well-oiled and equally high-performing. The RTX 3060, a high-end GPU, also needs high-end companion hardware like CPU, RAM, storage, PSU, etc. Here are the key things to keep in mind while buying a gaming PC with the RTX 3060 GPU.
Processor
Processor actually comes first and decides the majority of your PC's performance potential. This is because this is the primary processing unit of your whole PC. A GPU mostly works when you game or do any other GPU-related task, but a processor comes into play each and every second when the PC is on. So, you can't compromise on a good CPU if you have an RTX 3060. The RTX 3060 is all about great 1080p gaming, and in a 1080p gaming PC, a processor with at least 8 cores and 16 threads is a must.
There should be a minimum of around 3.0GHz of base clock speed with an overclocking potential of up to 4.5GHz.
This is a sweet spot for a perfect balance between the money and the performance of the CPU. You can opt for any latest CPU from Intel or AMD with the aforementioned cores and threads counts. However, I personally recommend having an AMD CPU as they come fabricated on much narrow lithography and hence are comparatively more power efficient with neck to neck in performance with Intel's counterpart. Also, look for a good clock speed in the CPU with overclocking potential. This will provide a good amount of future-proofing.
RAM
RAM is like temporary computer storage where the ongoing apps and software data are stored, which is necessary to run them on the operating system. Hence you can call it the temporary memory of the PC, which comes into play when an app or software is launched. Now it's obvious that to launch the application quickly, the memory/RAM of the PC should be fast in reading and writing the data. Also, to handle a large number of apps simultaneously, the capacity of RAM should be large.
Talking specifically about a 1080p gaming PC like the RTX 3060 GPU, the PC should have at least 16GB of RAM. The RAM should also be of the DDR4 category for a better data transfer rate.
Hence a high-speed RAM with sufficient storage is necessary for fast and efficient multitasking. The frequency of the RAM also makes a lot of difference. The more tye frequency, the faster the RAM will be in executing the operations. So always look for a RAM that offers around 3000MHz of clock speed.
Storage
Now comes the storage for your PC. I always say that this section is where one can bear a little compromise if there is a budget limitation. But there is also a bare minimum below, which will also cause compromise in performance. First of all, never settle for a complete HDD-based storage solution. Always look for SSD storage as the primary data storage option. SSD is way better than an HDD because it is faster, lighter, and more durable.
Having at least 1TB of NVMe SSD on a gaming PC is a good thing, or if there is a low budget, you can also go for a combination storage solution of both SSD and HDD.
In that case, you can have a 512GB of SSD with a 1TB of HDD storage where the SSD will maintain the PC's performance by offering fast read and write storage speeds, and the HDD will serve a the storage solution for less frequently used data.
Water VS Normal cooling
Bad thermal management can easily ruin the whole performance of the gaming PC. And to maintain a cool temperature of the components like CPU, the main processing house of the while PC, there should be a concrete cooling solution along with good airflow in the whole cabinet. When it comes to CPU cooling solutions, there are two prevalent and working methods, Water cooling, and conventional air cooling vai CPU fan.
But which one is good. The short and simple answer is Water cooling is better. But is it worth applying water cooling on a budget CPU like Ryzen 5 or Intel Core i5? Not at all. These CPUs can easily be managed via an air-based cooling solution.
When it comes to high-end processors like the Core i7, i9, Ryzen 7, or Ryzen 9, Air cooling may not be as effective as water cooling. You can have a 120mm water cooling AIO for processors like Ryzen 7 and Core i7, and if there is Ryzen 9 or Core i9, then a 240mm water cooling AIO is something that I would recommend.
Aesthetics and Looks
Looks and aesthetics also matter a lot when it comes to gaming PCs. Gaming PCs are one of the best-looking masterpieces when it comes to personal computing. However, this is a completely subjective thing, and based upon liking, the definition of aesthetics may vary from person to person.
This is also not a must-have thing as it doesn't affect the performance of your PC by any means. But what the current trend is and based on my personal likings, RGB looks dope in a gaming PC. It gives life to the PC's lifeless cabinet and makes it look really, very good.
Best RTX 3060/3060Ti Prebuilt Gaming PC
Check out our list of the top 10 best pre-built gaming PCs with RTX 3060/3060Ti GPU to buy in 2021:
RECOMMENDED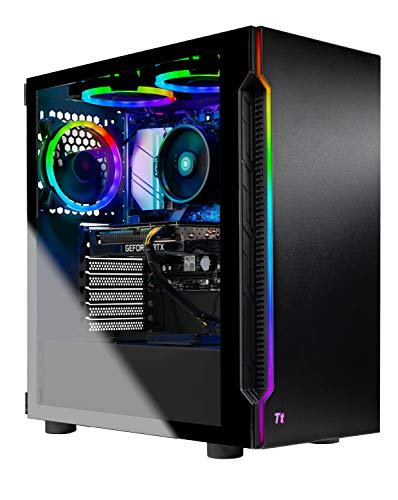 RUNNER UP
BEST VALUE PICK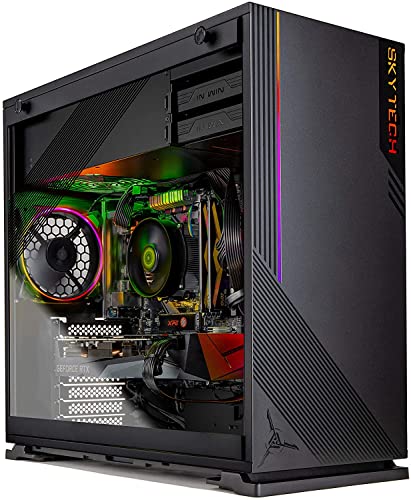 RECOMMENDED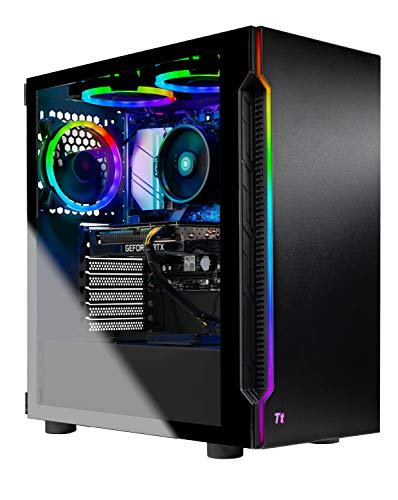 RUNNER UP
BEST VALUE PICK