Planning to buy the RTX 3060 powered laptop? If yes, we are here to find you a good laptop with RTX 3060 GPU installed inside. Starting with gaming laptops, these are something everyone loves. People used to think that gaming PCs are much more powerful than gaming laptops, but that assumption has become wrong. Because of recent advancements, the best gaming laptops are comparable to desktop ones, and they even come with the added factor of portability.
What is Nvidia GeForce RTX 3060?
The Nvidia GeForce RTX 3060 is a powerful graphics card that provides advanced graphics processing. It is popular for both gaming and video editing belonging to the latest RTX 30 series. Being a successor of RTX 2060, the newly launched GPU offers 6GB GDDR6 video RAM. There are plenty of other upgrades, such as 2nd generation RT cores, 3rd generation Tensor core, and dual-core streaming multiprocessor (SM), to enhance the performance by maintaining great efficiency.
The GPU further gets DLSS acceleration to improve machine learning, AKA artificial intelligence (AI). It significantly boosts FPS during the 4K gameplay utilizing advanced machine learning. Another advancement is made with Ray Tracing graphics, a gaming feature that helps in real-time rendering to adopt more realistic-looking visuals. Overall, Nvidia RTX 3060 is an advanced graphics card to accomplish graphics-intensive tasks.
We have already covered RTX 3050, RTX 3070, and RTX 3080 laptops in case you want more powerful configurations. There are many manufacturers, such as ASUS, MSI, DELL, or HP, and they each have different specifications of their GPUs (Graphics Processing Unit) and CPUs (Central Processing Units) memory size.  Due to this confusion, many users face difficulty in making their final decision.  This article reviewed the top 10 Best RTX 3060 Laptops that offer almost all the necessary features for good gaming.
Recommended: Best RTX 3060 Prebuilt Gaming PC
Buying Guide: How to choose the best RTX 3060 Laptops?
When we choose a laptop to play games, we must consider several considerations that, in some respects, are similar to the advice for buying a desktop gaming computer. Below you will find all the information you need to make your final decision.
Processor & GPU
In both laptops and desktop PCs, the processor is the most important part of the machine that we need to consider. In the case of the best gaming laptops and as the market is now, we opted for Intel i7 in any of its models. But it is highly recommended to go for AMD Ryzen 7 if you want to play high-end gaming flawlessly.
The graphic card or GPU is the second most important factor to consider in a gaming laptop. The graphics will go hand in hand with the rest of the components to offer good image quality and make the gaming experience as fluid as possible. For gaming, Nvidia has launched the latest RTX 30 series (RTX 3050, RTX 3060, RTX 3070, RTX 3080, etc.). As this article belongs to the RTX 3060 GPU, you have already made your mind to go with RTX 3060, which is a very good budget-oriented graphics card.
RAM & Storage
RAM is another of the main property of laptops. The more memory the laptop has, the more capacity it will have to store volatile data. In other words, more applications can run at the same time. For recording gameplays, this is perfect because you can record and play simultaneously without affecting performance. The minimum required RAM is 16GB for any gaming laptop. But it is always recommended to choose 32GB RAM models.
The storage of laptops also plays an important role because more space will help to store more games. The bottom line is that if you can afford it, go for a laptop with an SSD. The best gaming laptops already incorporate it, so it is becoming more and more common. In terms of storage capacity, 512GB of SSD should be sufficient for normal usage. But if you get the option to pick the 1TB SSD, this is even better. Subsequently, it will make the laptop more expensive. So, decent it wisely as per your budget!
Display
A laptop totally depends on your personal preference how big a display size you like to use. Generally, laptop displays are divided into 11-inch, 12-inch, 13-inch, 14-inch, 15-inch, 16-inch, and 17-inch. But for gaming, usually, we find gaming laptops with screens of two sizes; 15.6-inch and 17-inch. There is nothing written about it, but it is true that if you are used to playing on a desktop with a good monitor, it will probably cost you less to get used to a 17-inch gaming laptop.
We have already told you that to play games on the higher refresh rate panel. The laptop that comes with a 144Hz screen is good for gaming. So if you have a budget, we recommend that you choose a high refresh-rate display.
Weight 
In portable equipment, especially if you move it from one place to another, the weight will play a crucial role in making it comfortable to transport. Depending on the size of the screen, most gaming laptops are between 5 and 6 lbs in weight.
Top 10 Best RTX 3060 Laptops in 2021
Here is the list of the top 10 best RTX 3060 laptops you can buy in 2021 recommended by our team:
TOP CHOICE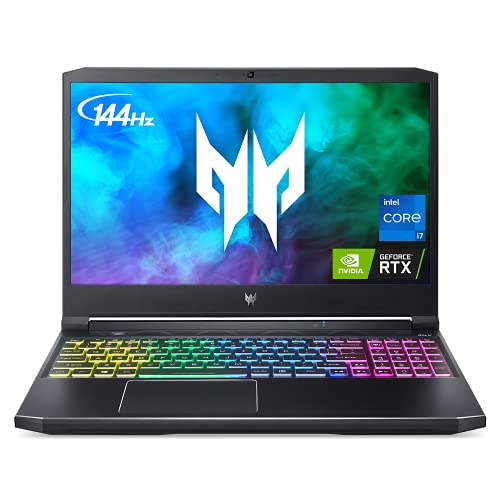 RUNNER UP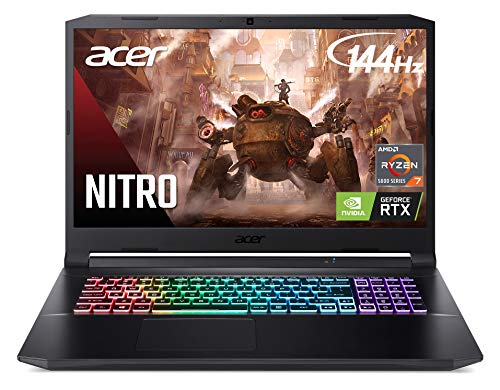 BEST VALUE PICK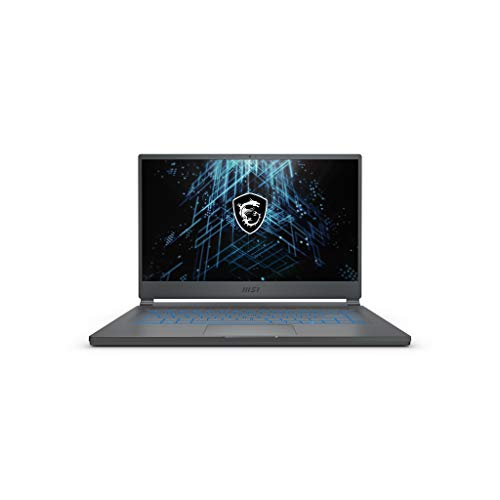 Name
Acer Nitro 5 AN517-41-R0RZ
TOP CHOICE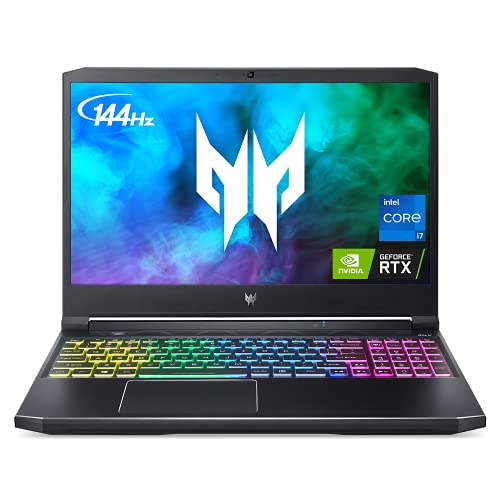 RUNNER UP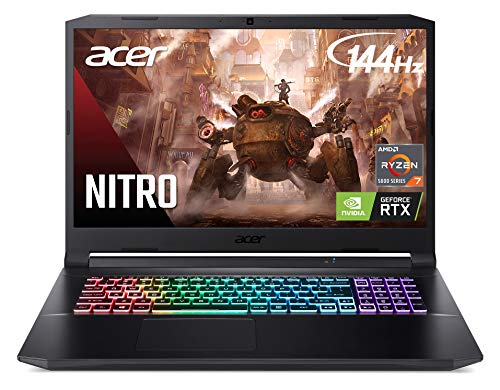 Name
Acer Nitro 5 AN517-41-R0RZ
BEST VALUE PICK